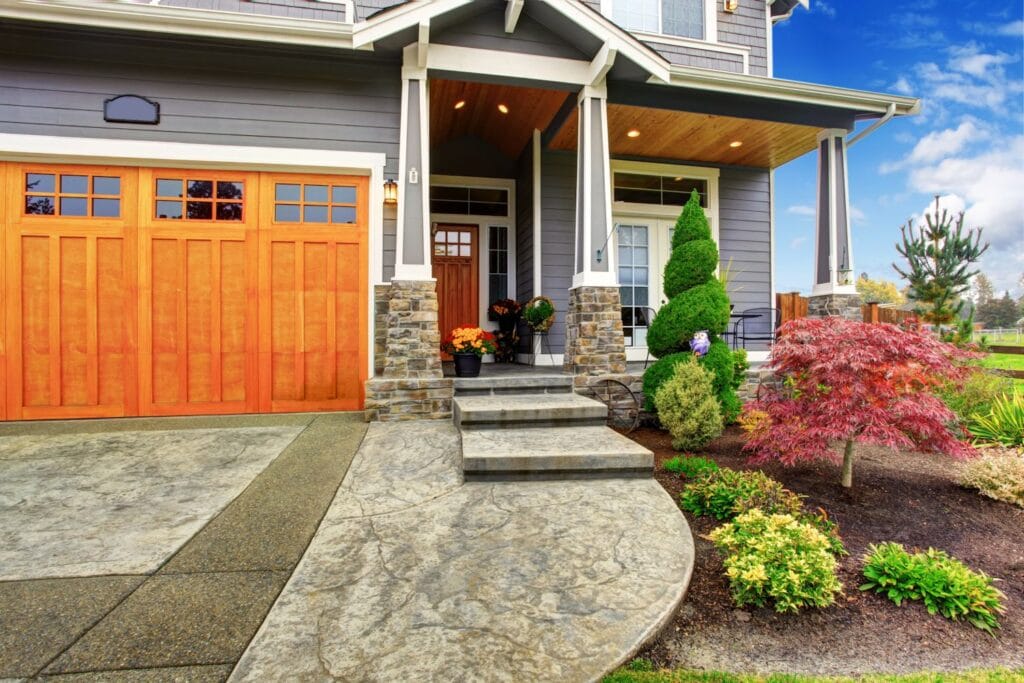 Selling your home or just making improvements for yourself; is not always an easy task. Especially if you are on a budget. One of the quickest ways to update your home and it's curb appeal is as simple as using a bit of paint to add a pop of color and contrast to your home. Below we will give you ways in which you can improve your home's curb appeal; different methods you can use, such as painting companies. And we go over the cost in regards to your options. 
How can I use paint as a way to improve my home's curb appeal?
There are many ways in which painting can aid in improving your home's curb appeal. Freshening up your home's paint that may be peeling from elemental damage is a good place to start. But many people will just paint their siding and overlook all the other places that they can add a pop of color!
Paint your front steps

Paint your planters

Don't forget the mailbox

Why not paint your house numbers

Refresh those doorknobs

Paint your old porch light

Use bold colors to make that accent trim pop!

Paint your front door

If you have a porch swing, paint that too!

Add color to your shutters
As you can see there are multiple small things you can paint with bright or contrasting colors in order to bring up the curb appeal of your home. Some of them you do not have to be a master painter to achieve; but if you lack the confidence, you can always go through one of the many painting companies available. Just check out a few of the painting companies here at Find the best Painting Companies at Get Your Quote
Why go through painting companies instead of doing it myself?
There is nothing that states using painting companies over your own ability is a necessity. However, painting companies come with trained individuals who take the work out of a project for you. They have all the tools and equipment readily available which may be more cost-effective in the long run overall. 
Using painting companies means you will have trained individuals who will come to your home, go over your requests, and provide you with a quote. You can find a list of painting companies at getyourquote.com. 
Competitive pricing is your friend.
By looking for a painting company in your area you will gain many benefits including competitive pricing. Below we will go over a few of the other benefits you will gain. 
Pre-screen for quality work

Negotiate pricing in your favor

Enlist insured contractors
By going to getyourquote.com you will be guaranteed professional service by someone who is in your corner. You will be given the best quotes from painting companies in your area who are insured and will provide the best service possible. 
I'm ready to improve the curb appeal of my home!
Great! You can either choose from a list of great painting companies or you can tackle the project on your own. Whichever way you choose you will want to keep a few things in mind. You have to look at your overall color scheme, where your home is located, and surrounding homes. 
Sure you can increase a home's curb appeal with some well-placed plants and flowers, but panting your home and its accessories can be a huge increase all on its own. Have a drab worn-out mailbox? Why not try your hand at painting it a bright color or use a stencil and give it a pop with a new design? 
Have some worn-out concrete steps? Adding a bright color or colors if you are feeling adventurous can be a great way of drawing the eye to your house. Adding a fresh coat of paint or a new decal to your front door; can help your home to stand out from others on your street. 
If you are worried about your capabilities either as an artist or just when it comes to choosing contrasting colors; going through a painting company may be the option for you. 
I looked into painting companies now what?
Once you have obtained a quote you like and have hired your painters; they will come and go over what changes you have in mind. They will be able to help guide you in color selection and the best ways to go about painting your home and it's accessories. 
You may find that your creativity mixed with their skills will be the perfect mashup on your way to having a home that speaks volumes about your personality. Using a professional painting company is oftentimes beneficial as you have someone to bounce ideas off of while not having to worry you may mess up the look of your home. Also, these professionals will be able to get you to your finished product in a time-effective way while relieving you of the stress of not only planning but the work involved.  So what are you waiting for? Check out getyourquote.com and get your dream home started.