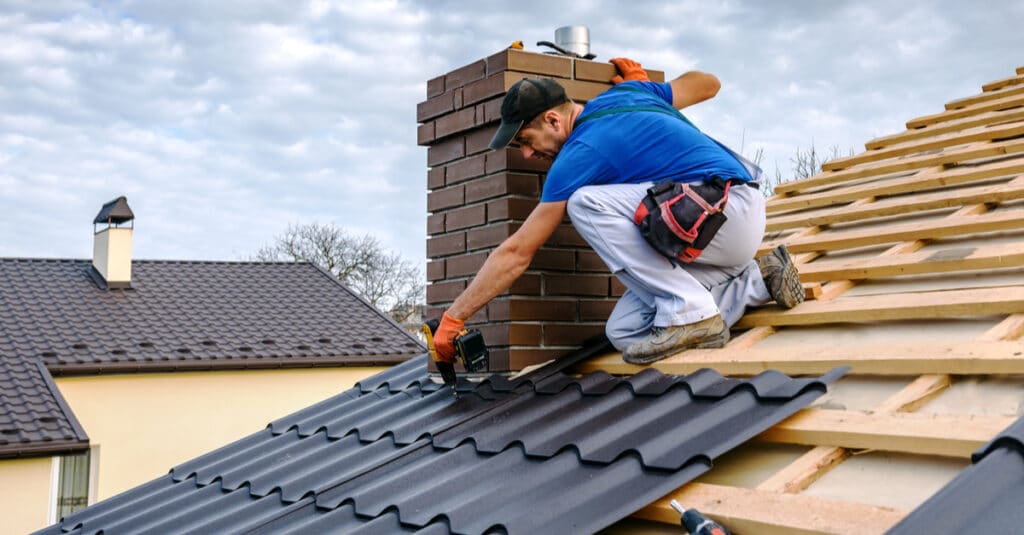 Roofs are the primary protection of our homes' interior against all elements. After some time, science kicks in and roofs would begin to deteriorate. It's not an easy job looking for new roof installation or maintenance of your existing one. Of course, you can always DIY your replacement. But you might also face yet another science – gravity if you know what I mean. The next best thing to do is to seek help when checking out roofing companies. It's more convenient, ideal, and not to mention safe.
When it comes to safety, don't compromise. YouTube tutorials are questionable unless you are an expert in the area. You will only be wasting a great deal of money trying to fix a roof on your own. We don't mean hospital bills if ever accidents occur. What we mean is the guaranteed quality of materials and the accuracy of the job. You need a trusted professional and a qualified roofing company to do the service.
Getyourquote.com is a company that provides comprehensive information on your various roofing needs. We do not just give you roofer, but filters information among the qualified and reliable roofing companies. These contractors are not only any contractors you would find on the street. They are pre-screened according to their efficiency, quality of work, and price. Getyourqoute.com does the tedious job of sorting roofer to suit your needs.
When to Replace Roofs?
You are not always particularly aware that you need a new roof. Not until the rain comes, and you can see waterfalls from the ceiling. So always check the conditions of your roofing when you can to save on maintenance cost. Here are the obvious signs that you need to replace your roof:
Sagging and leaking roof.

This is the apparent sign that roofing materials have deteriorated. You need to act to prevent further damages to your ceilings.

The gutter has granules.

Roof damage is not instantaneous unless force would act upon it. Granules on the gutter mean that your roofing materials are starting to depreciate.

Light is filtering from the roofs.

When sunlight peeps down from above, you should not wait for the rain to fix it.

Cracking, curling, or missing shingles.

Shingles are a thin piece of materials used to cover overlapping rows of the roof. If you noticed it is cracking or missing a considerably long piece, then it's already time for a replacement.

Presence of moss and algae

. Asphalt roofing is prone to algae and moss buildup. Their buildup causes moisture damage on the roof if left unchecked. However, this is preventable by roof maintenance solutions that roofing companies can offer.
How to Compare Prices of Roofing Companies in Your Area? 
Roof estimate is not the same for all. It varies depending on your need, whether repair, overhaul, or new installation. There are also significant considerations you should do before calling a contractor. Here are some of the information you need to get your free quotes from roofing companies:
Materials.

The roofing job does not necessarily mean buying an entire span of corrugated sheets because you seem to need it. Roofing includes other appendages like flashing, covering, gutter, drip edges, and shingles, among others.
Cost.

Material and labor costs are important. Ask about other upfront fees so you that the bill will not surprise you. Also, ask about payment methods and options. Pricing is a huge consideration in roofing installation and repairs. Choose the best deal without sacrificing quality.
Job description and work schedule.

Identify what type of job to do and when. The turnaround time may depend on the size or area of your roof, and the method the contractor will use. They will also examine your roof's state to give you their estimated timeline.
Warranty.

Back jobs and warranty protection will give you peace of mind. Your roofing material has about 20-50 years of life warranty. But workmanship warranty may differ among different roofing companies. Sometimes it needs a few more changes. Make sure the contractor covers the warranty. 

Insurance and Licensing.

A licensed roofer gives you protection and saves you from liability. It covers insurance to your home during the duration of the project. It also waives you from responsibility if anything happens to the worker during their work. Like we said, gravity.
It sounds exhausting, isn't it? It's even more exhausting to know that not all contractors can service all of your roofing needs. The good thing is, some companies offer a one-stop-shop for your needs.
How Can Getyourquote.com Help You?
Here at Getyourquote.com, we will solve your roofing dilemma by providing you what you need all in one place. We will filter through roofing companies in your area to give you the best services that you deserve. This will save you a lot of time from the hassle of looking for contractors and finding out they're not what you want. It will also protect you from potential scammers that might rip you off without successfully delivering the job.
Getyourquote.com works in just a click. All you have to do is to fire up our website and fill up an information form. You can also give us a direct phone call for your concerns. Then you can get your quote for your roofing needs. Check out these locations to see if we are available in your area.
Austin, Texas

San Antonio, Texas

Dallas, Texas

Houston, Texas

Fort Worth, Texas

Denver, Colorado

Chicago

Indianapolis, Indiana

Columbus, Ohio

New York

Philadelphia, Pennsylvania

Charlotte, North Carolina

Seattle, Washington

Phoenix

Los Angeles

San Jose, California

San Diego, California

San Francisco, California

Washington, D.C.
When it comes to securing your property, choose only the website you can trust. Getyourquote.com also offers a layer of protection for you, the job, the workers, and your property. Next time you needed roofing companies, select the place where you can get all the services you want. And let us handle the hassles for you.