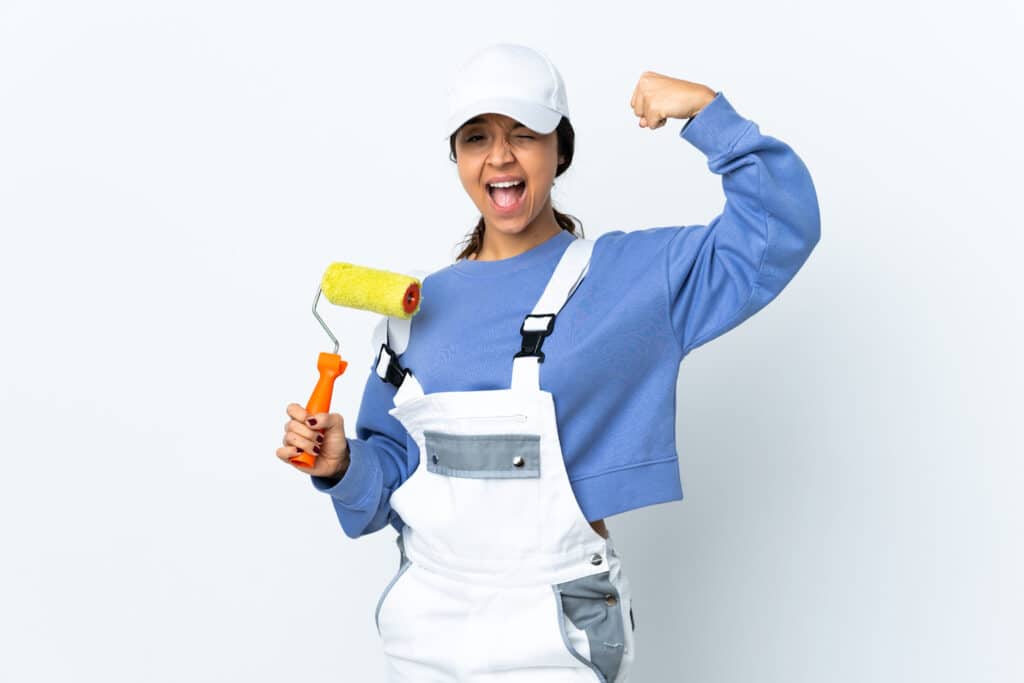 There are a few different times when you may need to have your house painted. Maybe you're moving into a new place and want to spruce it up before you move in. Or, maybe you've lived in your current place for years and are looking for a change of scenery.  No matter the reason, house painting is no easy task. 
Many people opt to take care of it themselves, but it can often be easier to hire a professional house painting company — especially if there's a lot of work that needs doing. Here, we're going to give you the best tips for finding house painting companies in your area. These include where to look for house painting companies, how to get referrals, check online reviews, get quotes, and ultimately where to get a free quote for house painters near you. 
Where to Look for House Painting Companies
Your first question may be this simple. Where do you even start looking? Looking online is a great place to start. A quick google search should yield a number of companies. 
The difficult part, truthfully, is not finding house painting companies. In fact, the much harder part is determining who to choose from. Depending on the city you live in, the market could be flooded with dozens of choices. If you are in a city like New York, you probably have way too many options. 
In smaller cities or rural areas, you may have fewer choices. However, it can still be difficult to determine the best house painters. We do have a few tips for narrowing those choices down, though. 
Ask For Referrals
The first and simplest step you can take is to ask around for a referral. If you know someone personally who has worked with house painters in your area, ask them about their experience. This can be the quickest and simplest way to connect with a great company. 
Keep in mind, though, that one person's opinion of a company may or may not be the truth. Sometimes people have bad experiences with great companies. Other times, they may have an excellent experience with a company that has a terrible track record. 
If you can, be sure to get multiple opinions. This will help eliminate some of the bias that comes along with an individual's experience. Moreover, if you see trends across multiple clients, those are better indicators of a company's quality. 
Check Online Reviews
In the same way, checking online reviews can be massively helpful. Rather than just pursuing a personal referral, online reviews can give you a fuller picture. You can look at a variety of house painting companies and get an idea of what they are like. However, these can often be misleading. 
If you are looking through online reviews, make sure you keep in mind that there will be extremes on both sides. The most likely people to write online reviews for contractors have had either a really good or really bad experience. 
This isn't a bad thing, but you should know that up front before you begin your research. Take what you read with a grain of salt. Be sure to look for trends that are consistent across multiple reviews.
You may see that a given house painting company works quickly, but that there was often a need for touch-up work. These are the types of things you can look for in online reviews.
Ask For Examples of Their House Painting
Before you start your project, you want to have an idea of the quality of work you can expect. Most house painting companies should have examples of their work that they can show you. Ask to see some photos. 
Any contractor who is proud of the work they've done will be glad to show you some finished projects. This is really the best way to see how they do. Things like painting around trim, door frames, and other small spaces should be your focus. 
Anyone can take a roller to a blank wall. If you're hiring professional house painters in Littleton, Colorado, the hope is that they will be able to paint spots that you would struggle with. 
Price Quote Different House Painting Companies
Once you've narrowed your options down to a few companies, it's time to start getting some quotes. You can do this by calling different companies and talking it over with them. However, there is a much simpler way. Get Your Quote is the easiest way to get free quotes from contractors in your area. 
We have an extensive network of house painters and other contractors in some of the biggest cities across the country. All you have to do is reach out to us with the details of your project and your timeline, and we will take care of the rest. 
We also vet all of the contractors on our website, so you know you can trust them. Contact us today, and let us help you find the best house painters in your area!