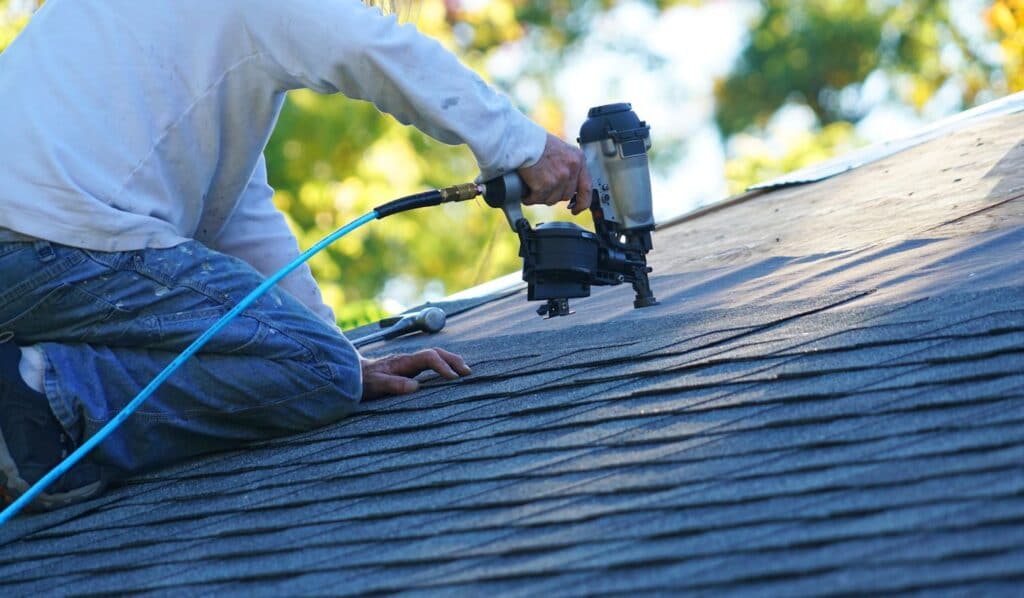 Roofing companies can be tough to choose from when the options seem endless. We understand the need for quality and care when it comes to roofing. We compare a wide range of roofing companies while providing a professional service that delivers.
Find the best with free quotes from roofing companies here with us!
Here we will talk about the different kinds of roofing issues.
Roofing Needs and Roofing Companies.
Firstly, an important decision to make is the roofing type. Roofing types directly relate to types of roof damage. For example, flat roofs pool water easier which leads to water damage. 
Secondly, knowledge of damage types in roofing is vital, more importantly to know how they are repaired.
Damage Types
You will find many professional roofing companies with us that explain damage types.
Blistering of roof shingles need a roof replacement before it breaks further. This type of damage occurs when shingles move and appear cracked and bubbling.
Another type of damage is flashing damage. Flashing is a metal sheet that covers roof joints to protect from water damage. This problem is often repaired using caulking. 
The problem with this fixing method is that caulking does not have any waterproof qualities and that a full replacement is needed, as caulking will only prolong the issue.
With us, finding the right roofing company to suit your needs becomes a breeze.
Roofing Ventilation
Initially, roofing ventilation and condensation don't seem connected. As the ventilation begins to fail, the roofing will be damaged faster as a result.
Roofing holds a number of layers that work together and protect your home. Over time, these layers are at risk of forming condensation between these layers. Most importantly, roofing vents need to be in place to avoid this problem.
Sometimes even roofing ventilation can need maintenance and repair. The problem with this is that roofing vents are hard to get to.
Roof shingles have to be pulled up to reach roof ventilation. The vent flashing can then be lifted up with a crowbar and the vent repaired. A skilled professional is required to repair roofing ventilation.
Our search engine will ensure your roofing ventilation is protected.
Skills Required for Professional Roofing
We ensure that your search results provide a wide range of professional roofing companies. The decision of roofing and what skills you require are up to you.
Here we explain the different skills required to provide professional roofing and how it can impact your choice. Professional roofing services need tools, but skills create quality from them.
Hit the Nail on the Head
Similarly to most trades, essential skills to roofing usually begin with basic carpentry and proficiency with many tools. Basic screwdriver use and power tools are vital in carpentry and are the foundational skills for which to build a roof. 
In the creation and the reparation of roofing, skilled carpentry will decide features such as the quality of the roofing and its durability. To provide the quality and care you deserve, you require the right skills. 
With our search engine, we provide you with the most professional roofing companies that hold all of these skills.
Addition, Subtraction, Division, and Multiplication
The simple yet unspoken truth of roofing is math.
Firstly, creating the correct dimensions, shape, stability, and product. Calculations are key to all of these things. Secondly, the correct quantity of materials needs to be decided upon.
Knowing the correct number of required materials and the weight they support helps create a strong foundation. In conclusion, to do all of this, you require a good knowledge of math.
Above all, roofing quality drops without the correct use of math in planning. This leads to more wear and tear and more importantly, more repairs. 
Again, with us, this won't be a concern. Our range of roofing companies come with many reviews to show their professionalism and quality work.
Roofing Emergencies
When an emergency arises and water leaks from your roof into your home, you need the right company for the job.
With a roofing company, no matter the hour or day, your repair needs are covered. More importantly, professional emergency roofing services.
Some roofing companies provide a 24/7 emergency repair service with professional quality and craftsmanship. These companies respond swiftly across all of Canada and the U.S whether it's flashing damage, shingle blistering, or anything else. 
In conclusion, our search engine will find roofing companies that give you peace of mind. Moreover, you will know all your roofing needs are in good hands with us.