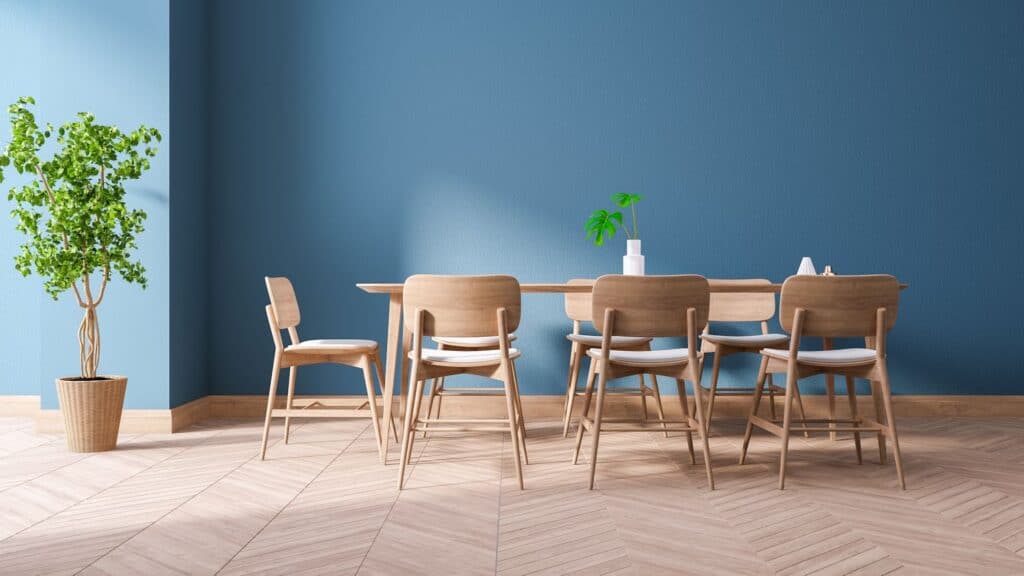 You love your house but it came with some rooms that are just a tad funky. Like that strange hallway/laundry room that leads to the master bedroom addition. Or that small room that is perfect for an office but just seems like the walls are closing in on you. 
What can you do to fix these small quirks and love your house 100%? Don't worry we have you covered!
Choosing Paint For A Small Room
Colors that reflect light will widen your small space. It's an illusion but does wonders when you are feeling cramped. Pastel colors are perfect for creating the illusion of a larger space because they reflect the light perfectly; even if this light is a lamp in the room. 
Paint your trim a color similar to your walls to create a seamless effect

Paint vertical or horizontal stripes

Choose a high-gloss sheen in a darker color to achieve the same effect
Okay, But What If My Room Is Too Big?
Sometimes the opposite is true and the room you are working with is too big and you need to create the illusion of a smaller space. Warm colors, those with red-tinges, absorb the light making the space seem cozier and inviting. 
Creating A Soothing Space With Paint
Rooms such as bathrooms or a baby's room require a more soothing tone when it comes to painting. Muted greens and blues are perfect for achieving a calming effect in these areas without being in your face bold. 
I Don't Want To Lose The Characteristics Of My Room
Great, you don't have to! You love that crown molding, why not frame it with color and make it stand out when you enter the room? Painting them in white with bright and bold colors on the walls is a great way of making these pieces stand out without taking away from the rest of your room. 
What About The Flaws In My Room?
No one wants a room where the flaws stand out so much that the rest of the beauty of your room is lost. So how do you hide those flaws without taking away from the room as a whole? Flat paint colors help hide the uglier bits of a room. 
How Do I Pick Paint Colors For Any Room?
Sample paint colors on a few walls

Add samples of colors to different sides of the room and walls to judge where the light hits

Check your colors in all weather to know how it will look year-round
What If I Need Help With Painting My Room?
Great question! You can try Excellent Painters. By giving them some general information you will be connected with painting companies local to your area and can start your project as soon as possible. 
What Does A Painting Company Offer Me?
They will walk through your project with you and make sure that everything goes off without a hitch. While you are going about your daily life you can rest assured knowing that your project is in capable hands. 
You can be sure the company is not only licensed but has the right skills in order to complete your project while being communicative with you. Once you are satisfied with your options you will be well on your way to having the home of your dreams. 
What To Keep In Mind
Should you choose to go through a painting company; you want to know how long they have been in the business. If they have any reviews and if so if they are good or bad. You will also want to keep in mind what their needs are in order to complete the job.
However, should you choose to continue on your own. You will need to remember a few tips and tricks of the trade. 
Even with painters tape, you will need to do touch-ups

Get plenty of samples

Don't rush your project

Keep your freshly painted room safe from pets and people till dry

Store your paint and samples appropriately