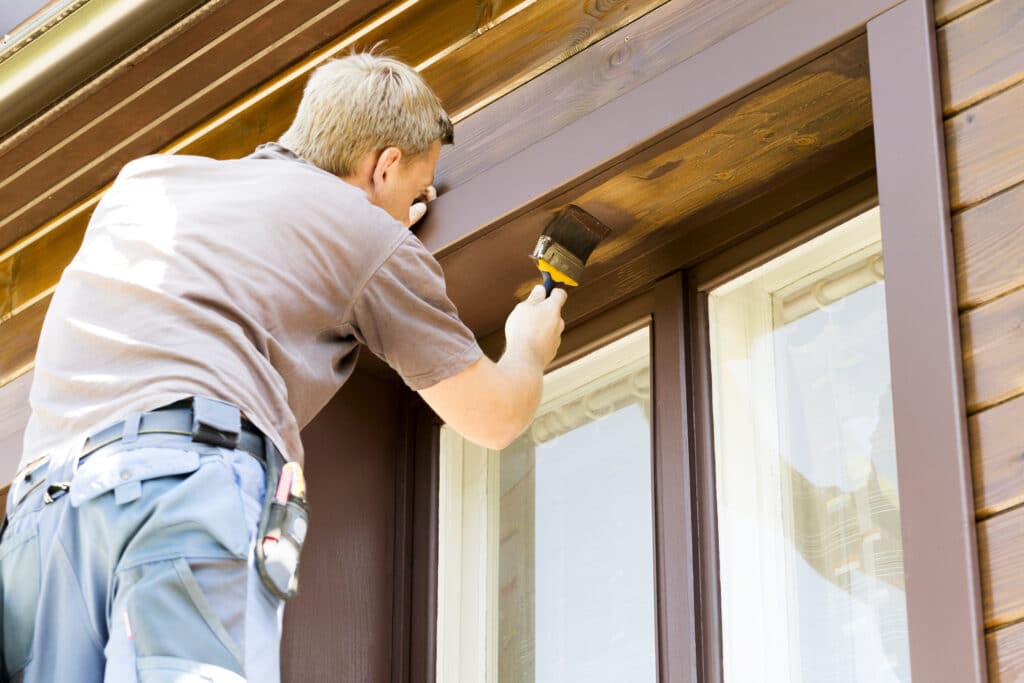 Peeling, chipped or blistering paint are common problems that can dramatically impact the fresh look of a room or house. On outdoor surfaces, efflorescence, chalking, mildew and discoloration are also unsightly issues. It may be tempting to try a quick fix-up job yourself. However, putting the task into the hands of a trusted painting professional will mean the repair is done to the highest standard and lasts longer. This will save you time and money in the long-term.
So how do you know who to contact for this job? A quick Google search returns a plethora of painting companies. This can be overwhelming and hard to know where to start! In this article, we'll take you through an easy, step-by-step process to ensure you get the best quality service.
Personal Referrals
Firstly, never underestimate the value of good old-fashioned word of mouth. Getting recommendations from friends and family is always a good place to begin. Ask them about their experience with a painting company, but also keep in mind that one person's opinion is not enough to base a decision on. They might have had an unlucky experience with a great company. Or, maybe they had a good job done by a company that has a bad track record. Nevertheless, personal referrals can always be a good starting point. If you're using this method, try to get as many as you can so you can get a clear and balanced view.
Another approach is to look in local magazines which feature renovated homes. The names and phone numbers of the contractors will usually be listed alongside the pieces. But be prepared – these are likely to be very high-end and expensive!
Online Reviews
Checking out online reviews is another good way to gain insight into particular companies. This allows you to read feedback from a much broader range of previous customers. It's important to remember that people are more likely to write online if they've had an extreme negative or positive experience. Bearing this in mind, make sure you read multiple reviews to get a fair view of the company. Also be wary; reviews are not always legitimate. 
Before you start doing your research, be sure on what you are looking for. You might be excited seeing comments that they work quickly or have low prices. But you also need information on quality, knowledge of the area and expertise in your particular painting repair issue.
Ask the Right Questions
You may have now found a company that seems like a good fit, but you must ask the right questions before deciding to go ahead with a contract. Never rush into an agreement.
Licensing:  Requirements vary from state to state, so make sure you've looked into this beforehand. Then you can check that the painter can prove they have any permit required of them.

Insurance: This is vital – if an accident happens on the homeowner's property, the owner will be financially liable if the contractor is not insured. Ask to see their Workman's Compensation and General Liability certificates.

Location: They should be based in your local area.You want them to know your neighborhood and weather conditions like the back if their hand.

Examples of work: Any good painting contractor will be more than happy to show you photos of their work. Especially with specific jobs like repairs and stripping, it is helpful to see before and after pictures as evidence of their skills.

Cost: Cheaper does not necessarily mean better. If the price is too low they are less likely to have a proven track record and a good quality service.
Get a Quote for Top Painting Companies
The final, and often most time-consuming step is to get a quote. This means contacting each company individually, waiting for them to get back to you, and then comparing prices. With Get Your Quote, they do the hard work for you. Just give them the details of your job and they give you a free quote for painting companies in your local area, matching you with the most qualified services. If you don't have time to research or simply want reassurance that you are choosing the best painting company, then this is a great option for you. 
Get Your Quote fully pre-screens all contractors before recommending them. This not only saves you time but means you can be confident you're getting someone who is licensed, insured, and knows what they're doing. They have multiple pages for all of the most popular cities across the US and have already negotiated the most competitive prices for you. 
It's easy to put off getting those repairs done, but they'll just keep getting worse if you leave them. A new paint job can completely transform and revitalize a home. So why wait?