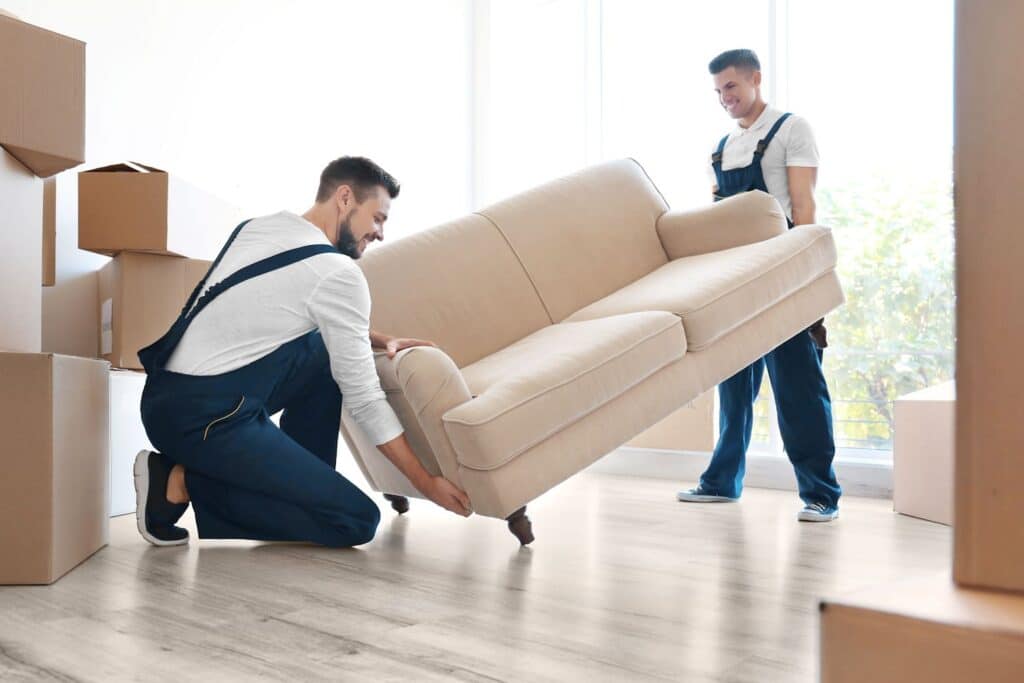 Moving out can be stressful. When it comes to searching through the endless number of moving companies, you might even be put off completely. Don't be. 
With us you can find free quotes from Moving Companies that eliminate all of your fears and worries.
Efficiency
Firstly, a key skill for movers is their efficiency in their fast-paced work. They have to effectively work within their given time constraints and to their deadlines. 
Having to load up and unload a truck of an entire household is a huge task. For movers, this is not so much the case. Having to do this every day they reduce hours of work by working at a pace that values every minute spent. We provide workers just like this that reduce your worries and provide an efficient professional service.
Reliability
Secondly, our search engine shows only the most reliable professional moving companies. There are many moving companies to be found, but you will only find reliable moving companies with us. This reduces the chances of you finding unreliable companies that cost more and provide a poorer service.
To ensure a moving company's reliability, they will issue a Bill of Lading. This bill is a guarantee they will deliver your items carefully and, more importantly, liable for damages. This service is not a guarantee however when you self-move or work with unreliable moving companies. Be safe and search through us.
Safety Ensured
Maintaining a safe move is both difficult to manage and hard to do alone. Skip the risks of injury and issues arising with us. Hiring professional moving companies through us will provide you with a safe move for yourself and your belongings.
With the correct training and manual handling, movers can lift seemingly huge objects with ease safely. Moreover, they can provide the correct moving equipment. With heavy kitchen appliances and furniture involved, the right moving equipment is vital to ensure a safe move.
Experience is key
The key to finding the right moving company is experience. Inexperience can lead to damaged goods, injuries, and lack of professional behavior. 
Professional and experienced moving companies will hold the right training to pack items away well. Movers with experience pack smaller items into boxes in an organized manner and large items with moving dollies. Experience allows them to help you move quickly and safely then unload in the same fashion. Stick to experienced moving companies with us.
Accountability
In all worldly things, accountability is crucial to making sure that someone is responsible for things that go wrong. With moving companies, you know your goods are safe when you know movers are accountable.
If your belongings were to become damaged during the move with a moving company, you can rest assured. However, if you were to move with family and friends, accountability disappears. If your friend dropped a box of fragile goods, the cost would be on you as they have no legal accountability.
Keep safe and ensure accountability with a moving company through us.
Peace of Mind
Most importantly, moving companies completely reduce the level of stress caused by a move. Finding the time to plan the entire move, hire the correct truck and equipment can be very stressful. Remove all of that stress with us.
Moving companies will completely clear your mind of that stress knowing your goods are safe. Having that extra time to breathe and think, you get to spend your time on the things that really matter. Grant yourself that peace of mind now with a moving company through us.
Savings, Savings, and More Savings!
Firstly, consider the cost of truck hire, the costs for insurance, the packaging costs, and time costs. After you have considered all of these costs, know that they all go away with a moving company. 
Moving companies save you money and time by completely removing all of these cost considerations. What you would spend on each aspect of a self-move will be equally or more expensive than a moving company. Additionally, the costs of food and shelter might play a part in the move, increasing the costs even further.
Save more with a moving company. Save more with us.
More Hands, Less Work
It is likely you've heard of the saying, two heads are better than one. Why not apply that to your move?
Moving companies reduce the work for you by doing it for you. Rather than plan everything, organize it all yourself, and manage it all alone, accept a helping hand. With more people helping you, the process of moving becomes easier, more manageable, and a less stressful experience.
Avoid Injury
Like many DIY activities, the chance of injury to yourself when the act involves you. Using our search engine to find the right moving company for you completely removes this risk.
In a self-move, back injuries, pulled muscles and worse can occur. Keep yourself safe by using a moving company whose training will protect them and you in the moving process. Just one heavy load lifted poorly could be one you live to regret for the rest of your life. After that event, you might reconsider.
Keep safe and hire a moving company.
Does Size Really Matter?
Firstly, trying to pack away your own goods can be hard enough to organize. Secondly, what about the truck size? Attempting to estimate the truck size you need can be a hard task, so why do it? Hire a moving company to do it for you.
Moreover, you might hire a truck that is too big and you find yourself with space to spare.  As a result, that extra space likely just cost you a lot of money you didn't need to spend.
Moving companies estimate truckloads every day and therefore, save you money with that decision alone.
In conclusion, the way to save and stay safe is with a moving company through us. So if you're moving to Pueblo, Colorado, you know who to contact.