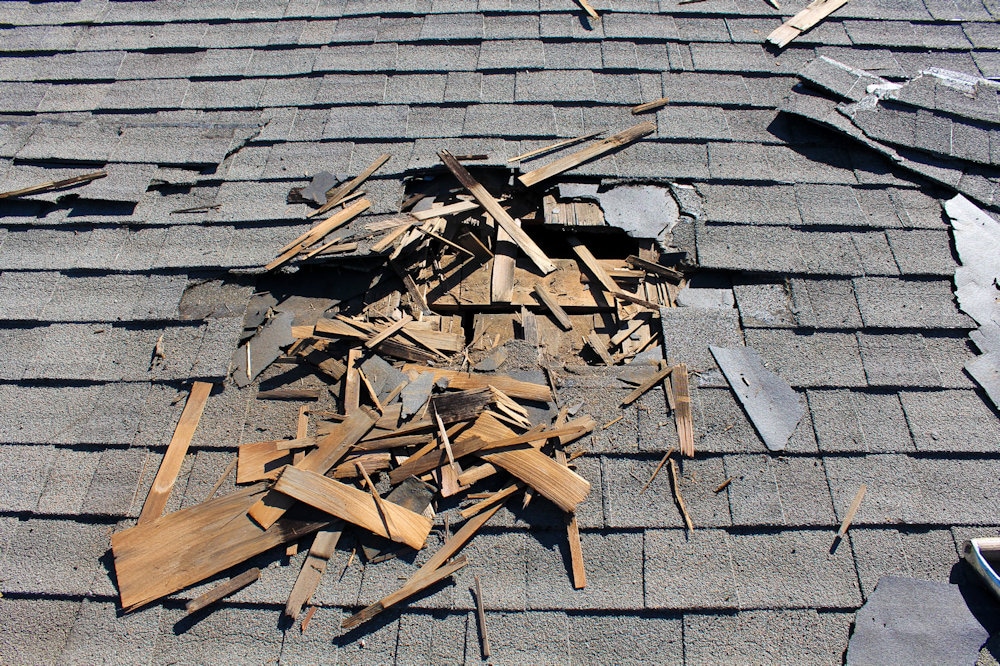 If there is a gaping hole in your roof, you know you need to call someone. But what if your shingles are just looking a little weathered? How about a small leak? In these scenarios, it can be hard to know whether to call roofing companies or just try to fix the issue yourself.
This article will tell you when to contact roofing companies for repairs and the kinds of things you should keep an eye out for to know that your roof is in good shape. 
Contact A Roofing Company if You Notice Damaged or Missing Shingles
If you notice curling, loose, blistering, or buckling shingles, the National Roofing Contractor's Association says you may need to call in a professional. These can signal that the roof is nearing the end of its lifespan. 
Different environmental factors can cause this. These include excessive wind, rain, or other kinds of storm damage. In other cases, over time, rain can slowly wear out your shingles. Either way, this should be a sign that your roof is in need of attention. You should at least call a roofing company to have them come out and inspect the damage.
If the shingle is damaged, it may eventually wear out and go missing. Missing shingles are one of the most common causes of roof leaks, which can eventually lead to significant water damage and require a much more expensive repair. 
Contact A Roofing Company if You Notice Granules In Your Gutters
Even if the shingles on your roof all look fine, you should look in your gutters. If you notice a significant number of granules (small pieces of shingles that have worn away), this can be an early warning sign of damaged shingles. 
The granules provide weight and additional UV protection to the shingles. So, losing them can cause the shingles to wear out even faster. 
Contact A Roofing Company if You Notice an Unusually Hot Attic
Sometimes, there are issues with the ventilation to your attic. If this happens, not only will it make your attic extra hot, it can actually bake the shingles on your roof. This can exacerbate existing issues, and it can cause new ones. 
If you ever notice issues with the temperature of your attic, you should have it fixed immediately. In addition, you should have someone inspect your roof to prevent possible future damage. 
Contact A Roofing Company if You Notice Flashing Damage
The metal sheets within your roof make up what's called the "flashing". If this becomes damaged, you may notice the metal starting to pull away from your roof. 
Anytime you see this, you should call a roofing company immediately. If they catch it early enough, the roofer may be able to repair the damage without having to replace the whole roof. Otherwise, it can end up being a much more extensive and expensive fix. 
Contact A Roofing Company if You Notice Algae or Moss
Often times, roofs become covered in algae or moss. This is not healthy for the roof. Not only can it stain your roof, but it can also grow into tiny crevices in your roof, leading to increased water damage. 
If you notice any mold, moss, or algae growing on your roof, you should have it repaired as soon as possible. It can be really tough to fix this once it sets in, and it can cause a significant amount of damage to your roof. 
Contact A Roofing Company if You Notice Leaks Or Spots On Your Ceiling
This one may seem obvious, but we had to include it here. A leaky roof is a huge issue. It is an inconvenience to you and your family, and it can cause massive damage really fast. It's easy to notice water falling from your ceiling, but there are other signs of a leaky roof.
If you look up and see any damp or dark spots on your ceiling, you should have that checked out. This can often be an early sign of a leaky roof. Although the water may not have reached the inside of your house, if it's affecting your ceiling, it has already gotten through the roof. This is an urgent issue that requires immediate attention. 
Discover Roofing Companies Near You
If you have noticed any of these issues in your home, you should contact a roofing company today. Discover roofing companies at GetYourQuote.com. They have an extensive network of pre-screened, trusted roofing companies that you can contact for a free quote.
They make the process really simple, and they can have you connected with a roofer in your area in no time. These issues need to be addressed quickly, so don't wait around for the problem to get worse. Contact a roofer, and get the issue fixed as soon as possible.